Roy Harper - Girl from the North Country
This weeks guest post is by Grumpy's Shed and like many a man over 40, he's grumpy and he spends his time in his shed....
"About a year ago my sister in law called to tell us that 'Roy Harper was in concert in November 2011 at the Festival Hall in London – he influenced Pink Floyd and Led Zeppelin you know'. Well we didn't know but, not wanting to appear lacking in our musical knowledge, we said 'Wow – we'll have to get tickets' and so we did. Having done little homework on Roy Harper, other than realising that he had a good decade on us in age and that he had appeared on BBC Breakfast News a few weeks before to talk about his life, we duly travelled to London and made our way to the Festival Hall. It's not many concerts that I've been to recently when I've been one of the youngest in the audience but this was one – although I did not have the long flowing hair that most had – and most of it grey. I also lacked the 'Harper 1964' tee shirt that many wore. But rumour had it that David Gilmour was going to do a guest session with Roy and he has sensible hair and clothes like me.
We settled down and Roy came on to the stage. 'F***ing Brilliant Roy' was shouted from the audience – and he'd only tuned one string – here was an enthusiastic audience. Roy told us about how he had grown up somewhere and after (quite) a few minutes he sang a song which was OK I guess. More yells of adoration in fairly anglo-saxon terms from the audience. Now we'd got to the commune stage of his life and after a little while of musing, thinking and wiping a tear from his eye we got to hear the song 'Commune' which seemed to be a fairly physical era of Roy's life with a girlfriend or two. And then after a further two songs we were at the interval – my, how time flies.
Roy returned after the interval saying that he was going to bring on a guest – here comes David G I thought – but his son came on and played (very well) with his Dad. A further six or seven songs with much life memory dialogue in between and Roy said 'Thanks – it's been great' and left the stage.
After thunderous supports from the stamping of many heavy boots and yelling that would have embarrassed even the Gallagher brothers back comes Roy, sits down, starts strumming and introduces Jimmy Page only to perform the track of the night with the best guitar playing I've heard in many a year. This made up for all before and created the memory of the concert.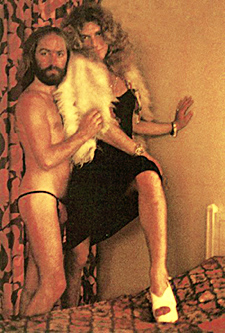 "...whole lotta love with Robert Plant..."
I would be lying if I said that I came away humming all the great songs that I'd heard but the one I've chosen to accompany this was played and sung perfectly by Roy.
So I've seen the great Roy Harper and I'm glad if it's true that he has influenced some of the greatest bands of the past but I'll be a little more careful in future before responding so positively to a call from the sister in law."
GUEST SPOT #28 - Roy Harper - Girl from the North Country
Oleh
sfw